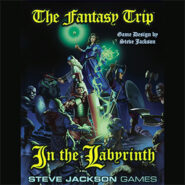 Before the age of the OGL, there was a time undreamt of, the time of second generation FRPGS! Join us back in the late 1970s as we cover "The Fantasy Trip" by first Metagaming, then reprinted by Steve Jackson Games. Your fave Halflings consider this precursor to GURPS in all of its rules-light glory. Mana, Wizard Staffs, Solo Adventures, and dollar signs await your listening pleasure in this episode of Save for Half!
No Prootwaddles were harmed in the making of this episode, because they only had to roll 2d6 to save!
Links mentioned in this show:
Legacy Edition: The Fantasy Trip
https://thefantasytrip.game/products/core-games/the-fantasy-trip-legacy-edition/
The Fantasy Trip main site
https://thefantasytrip.game/
The Fantasy Trip on Wikipedia
https://en.wikipedia.org/wiki/The_Fantasy_Trip
Video of sample combat: The Fantasy Trip
https://www.youtube.com/watch?v=LGUaYdA3X_g
Don't forget to drop us an email at saveforhalfpodcast(at)gmail.com to give your opinions of the show!
Be sure to check out our forums at:
Save for Half at Original D&D Forums
http://odd74.proboards.com/board/77/save-half-podcast
And find us on social media:
Save for Half at Facebook
https://www.facebook.com/saveforhalf/
Save for Half Patreon
https://www.patreon.com/saveforhalf
Podcast: Play in new window | Download
Subscribe: Apple Podcasts | RSS