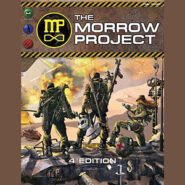 It's happened to us all at one time or another. You get hired by a company, given survival training, then stuck in a freeze tube for 200 years. Then when you get out, you find you've misplaced your streaming accounts. It's The Morrow Project, that venerable post-apocalypse RPG from the early 1980s; now in its 4th edition. We discuss combat, some combat, and for a change a bit about combat simulations. Oh and roleplaying of course. If we don't bleed to death first. All this and Death by Dysentery tables await you in this episode of Save for Half!
No muties were harmed in the making of this podcast, not even by the Kentucky Fried State!
Links mentioned in this show:
Morrow Project 4th edition on Amazon
https://www.amazon.com/Morrow-Project-4th-Role-play-Post-Apocalyptic/dp/0976604345
The Morrow Project on Wikipedia
https://en.wikipedia.org/wiki/The_Morrow_Project
Timeline Ltd Facebook
https://www.facebook.com/TheMorrowProject/
To Morrow's End podcast
https://tomorrowsend.rpgstuff.net/
Don't forget to drop us an email at saveforhalfpodcast(at)gmail.com to give your opinions of the show!
Be sure to check out our forums at:
Save for Half at Original D&D Forums
http://odd74.proboards.com/board/77/save-half-podcast
Save for Half at OSRGaming
http://www.osrgaming.org/forums/index.php?board=37.0
And find us on social media:
Save for Half at Facebook
https://www.facebook.com/saveforhalf/
Save for Half Patreon
https://www.patreon.com/saveforhalf
Podcast: Play in new window | Download
Subscribe: Apple Podcasts | RSS