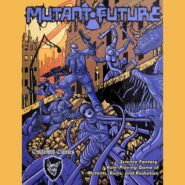 It's the future — with mutants! That's right, the Fab Foursome are covering the game Mutant Future by Goblinoid Games, and it's a world with more Gamma than you can shake a Death Machine at! Based on the Labyrinth Lord system, it's got all the post-apocalypse goodies you've come to expect — mutations, gonzo creatures, and artifacts that can blow your head off if you're not careful. Even if it's a refrigerator!
No mutant animals were harmed in the making of this podcast, so the ASPCMA can get off our backs!
Links mentioned in this show:
Goblinoid Games
https://goblinoidgames.com/
Mutant Future – Drivethru RPG
https://www.drivethrurpg.com/product/86683/Mutant-Future-Revised-Edition
Mutant Future Wiki
https://mutant-future.fandom.com/wiki/Mutant_Future
Mutant Future – Wikipedia
https://en.wikipedia.org/wiki/Mutant_Future
Don't forget to drop us an email at saveforhalfpodcast(at)gmail.com to give your opinions of the show!
Be sure to check out our forums at:
Save for Half at Original D&D Forums
http://odd74.proboards.com/board/77/save-half-podcast
Save for Half at OSRGaming
http://www.osrgaming.org/forums/index.php?board=37.0
And find us on social media:
Save for Half at Facebook
https://www.facebook.com/saveforhalf/
Save for Half at MeWe
https://mewe.com/join/the_save_for_half_podcast
Save for Half Patreon
https://www.patreon.com/saveforhalf
Podcast: Play in new window | Download
Subscribe: Apple Podcasts | RSS