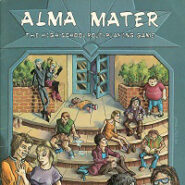 School's out…of its mind? It sure seems that way as your Four Halflings take a dive into one of the oddest RPGs from the early 1980s; that of Alma Mater. Classes, teachers, social cliques, and other hazards for your freshman PC await you in this episode of the podcast. Oh, and a few tables to roll on. Just a few.
No Losers were harmed in the making of this podcast, despite the game's constant encouragement to do so!
Links mentioned in this show:
Alma Mater on RPG Geek
https://rpggeek.com/rpgitem/45812/alma-mater-high-school-role-playing-game
Alma Mater RPG on Wikipedia
https://en.wikipedia.org/wiki/Alma_Mater_(role-playing_game)
Erol Otus –Discogs
https://www.discogs.com/artist/2316216-Erol-Otus
Don't forget to drop us an email at saveforhalfpodcast(at)gmail.com to give your opinions of the show!
Be sure to check out our forums at:
Save for Half at Original D&D Forums
http://odd74.proboards.com/board/77/save-half-podcast
Save for Half at OSRGaming
http://www.osrgaming.org/forums/index.php?board=37.0
And find us on social media:
Save for Half at Facebook
https://www.facebook.com/saveforhalf/
Save for Half at MeWe
https://mewe.com/join/the_save_for_half_podcast
Save for Half Patreon
https://www.patreon.com/saveforhalf
Podcast: Play in new window | Download
Subscribe: Apple Podcasts | RSS