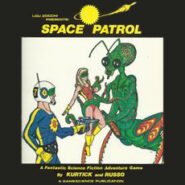 Space, the final frontier — or the first, as far as RPG space gaming went. Gamescience's Space Patrol beat Traveller to the punch in 1977, but was lost in the shuffle of its better known rival's little black books. But this little game has some good points to consider, even for today's jaded gamer. Listen in as we cover aliens, planets, a startling lack of starships…and equipment with no cost?
No Kzinti were harmed in the making of this podcast, not even by Blush Gordon!
Links mentioned in this show:
Space Patrol on RPG Geek
https://rpggeek.com/rpg/2547/space-patrol
Star Patrol (Space Patrol) on Wikipedia
https://en.wikipedia.org/wiki/Star_Patrol
Don't forget to drop us an email at saveforhalfpodcast(at)gmail.com to give your opinions of the show!
Be sure to check out our forums at:
Save for Half at Original D&D Forums
http://odd74.proboards.com/board/77/save-half-podcast
Save for Half at OSRGaming
http://www.osrgaming.org/forums/index.php?board=37.0
And find us on social media:
Save for Half at Facebook
https://www.facebook.com/saveforhalf/
Save for Half at MeWe
https://mewe.com/join/the_save_for_half_podcast
Save for Half Patreon
https://www.patreon.com/saveforhalf
Podcast: Play in new window | Download
Subscribe: Apple Podcasts | RSS