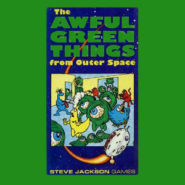 What more can we say about episode 25 of Save for Half? Only they're awful, they're green…and they're from outer space! Yes, it's that quirky Tom Wham boardgame first published in Dragon magazine #28, and was in its 8th edition in a box set from Steve Jackson Games. Come join the Halflings aboard the Znuta as we fight aliens, no matter what side you're on!
No Awful Green Things were harmed in the making of this podcast, except with a pool cue.
Links mentioned in this show:
Awful Green Things from Outer Space rules site
https://fliphtml5.com/qaad/cppe/basic
D50 shades of D&D
https://toddaj.podbean.com/
Tom Wham site
http://www.tomwham.com/index.html
Don't forget to drop us an email at saveforhalfpodcast(at)gmail.com to give your opinions of the show!
Be sure to check out our forums at:
Save for Half at Original D&D Forums
http://odd74.proboards.com/board/77/save-half-podcast
Save for Half at OSRGaming
http://www.osrgaming.org/forums/index.php?board=37.0
And find us on social media:
Save for Half at Facebook
https://www.facebook.com/saveforhalf/
Save for Half at MeWe
https://mewe.com/join/the_save_for_half_podcast
Save for Half Patreon
https://www.patreon.com/saveforhalf
Podcast: Play in new window | Download
Subscribe: Apple Podcasts | RSS