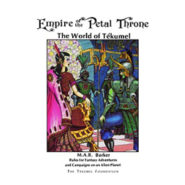 It's a legend in the RPG community, M.A.R. Barker's famous Tekumel is brought to you by the halfling horde's inimitable wit! Well, half of it anyway… The Empire of the Petal Throne is arguably the first D&D variant world to see publication, and it's got more detail than you can shake a dice bag at. The Halflings take a review of the world of the Petal Throne, its rules that vary from Dungeons & Dragons, and most importantly discuss…Dire Navigators!
Links mentioned in this show:
Empire of the Petal Throne (1975) on Drive Thru
https://www.drivethrurpg.com/product/2060/TEKUMELR–Empire-of-the-Petal-Throne-TSR
Tekumel: The World of the Petal Throne
https://www.tekumel.com/
Don't forget to drop us an email at saveforhalfpodcast(at)gmail.com to give your opinions of the show!
Be sure to check out our forums at:
Save for Half at Original D&D Forums
http://odd74.proboards.com/board/77/save-half-podcast
Save for Half at OSRGaming
http://www.osrgaming.org/forums/index.php?board=37.0
And find us on social media:
Save for Half at Facebook
https://www.facebook.com/saveforhalf/
Save for Half at MeWe
https://mewe.com/join/the_save_for_half_podcast
Save for Half Patreon
https://www.patreon.com/saveforhalf
Podcast: Play in new window | Download
Subscribe: Apple Podcasts | RSS