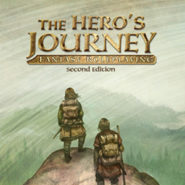 Welcome to the New Year! Your Halflings are joined by noted game designer James Spahn to talk about his new update of The Hero's Journey Fantasy RPG, Kickstarting this month. We discuss his game philosophies, new innovations that make The Hero's Journey 2E his ideal RPG, and his plans for the future. Tune in, and tune up to the Save for Half Sideshow!
No kobolds were harmed in the making of this episode, not even the green ones!
Links mentioned in this show:
Barrel Rider Games
https://barrelridergames.wordpress.com/
Gallant Knight Games
http://www.gallantknightgames.com/
The Hero's Journey 2nd Edition Kickstarter
https://www.kickstarter.com/projects/gallantknightgames/the-heros-journey-2e
Don't forget to drop us an email at saveforhalfpodcast(at)gmail.com to give your opinions of the show!
Be sure to check out our forums at:
Save for Half at Original D&D Forums
http://odd74.proboards.com/board/77/save-half-podcast
Save for Half at OSRGaming
http://www.osrgaming.org/forums/index.php?board=37.0
And find us on social media:
Save for Half at Facebook
https://www.facebook.com/saveforhalf/
Save for Half at MeWe
https://mewe.com/join/the_save_for_half_podcast
Save for Half Patreon
https://www.patreon.com/saveforhalf
Podcast: Play in new window | Download
Subscribe: Apple Podcasts | RSS