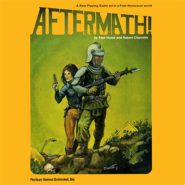 It's the Post-Apocalypse, and you are a lone survivor battling the radioactive wastes with a pistol, sneakers, and all the armor that hit location #12 can hold! That's right, it's Aftermath by Fantasy Games Unlimited, and your Halflings delve into how the world ended in 1981! DM Jim failed his barter roll with the landshark, so we are joined this episode by DM Ben of the legendary realms of New York. Flowcharts, bicycles, and the relative weight of human heads abound!
No dogs were hit in the #12 in the making of this episode—because it's not there?
Links mentioned in this show:
Aftermath! – Fantasy Games Unlimited
https://www.fantasygamesunlimited.net/product-category/aftermathbooks/
Nike Sneakers
https://www.nike.com/w/shoes-y7ok
Soldier of Fortune magazine
https://www.sofmag.com/
Don't forget to drop us an email at saveforhalfpodcast(at)gmail.com to give your opinions of the show!
Be sure to check out our forums at:
Save for Half at Original D&D Forums
http://odd74.proboards.com/board/77/save-half-podcast
Save for Half at OSRGaming
http://www.osrgaming.org/forums/index.php?board=37.0
And find us on social media:
Save for Half at Facebook
https://www.facebook.com/saveforhalf/
Save for Half at MeWe
https://mewe.com/join/the_save_for_half_podcast
Save for Half Patreon
https://www.patreon.com/saveforhalf
Podcast: Play in new window | Download
Subscribe: Apple Podcasts | RSS