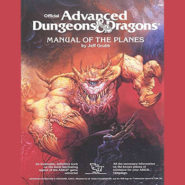 What do you do with that 20th level character in AD&D? Start adventuring in the various planes of existence, naturally! Your four halflings take a dive into 1987's Manual of the Planes by Jeff Grubb and the TSR Bullpen. Soaring vistas, deep Abysses (Abyssi?), and Quasi-Elementals abound in this episode of Save for Half!
No Modrons were harmed in the making of this show, because Nirvana has a perfect count.
Links mentioned in this show:
Badger Song
https://www.badgerbadgerbadger.com/
Manual of the Planes at DrivethruRPG.com
https://www.drivethrurpg.com/product/17009/Manual-of-the-Planes-1e?filters=0_0_0_44499_0
Manual of the Planes History at Wikipedia
https://en.wikipedia.org/wiki/Manual_of_the_Planes
Save for Half Patreon Page
https://www.patreon.com/saveforhalf
Don't forget to drop us an email at saveforhalfpodcast(at)gmail.com to give your opinions of the show!
Be sure to check out our forums at:
Save for Half at Original D&D Forums
http://odd74.proboards.com/board/77/save-half-podcast
Save for Half at OSRGaming
http://www.osrgaming.org/forums/index.php?board=37.0
And find us on social media:
Save for Half at Facebook
https://www.facebook.com/saveforhalf/
Save for Half at MeWe
https://mewe.com/join/the_save_for_half_podcast
Podcast: Play in new window | Download
Subscribe: Apple Podcasts | RSS