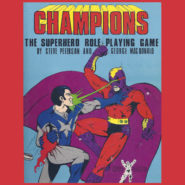 It's a "Super" episode of Save for Half today as the Fab 4 return to talk about the first edition of Champions, the Super RPG. Published in 1981, this 73-page rulebook gives you everything you need to fight crime, supervillains, and…math? We'll give you the lowdown on the powers, the foibles, and mathematical formulas of this pioneering Superhero RPG; who's on its 6th printing today!
No BODY, STUN, or d6s were harmed in the making of this episode. Not even with Killing Attacks!
Links mentioned in this show:
Champions 1E (revised) on DriveThru RPG
https://www.drivethrurpg.com/product/256854/Champions-The-Super-Hero-Role-Playing-Game-2nd-Edition?src=hottest_filtered
Hong Kong Phooey
https://cartoonscrapbook.com/cartoons/hong-kong-phooey-1974/
Instock Trades
https://www.instocktrades.com/
Don't forget to drop us an email at saveforhalfpodcast(at)gmail.com to give your opinions of the show!
Be sure to check out our forums at:
Save for Half at Original D&D Forums
http://odd74.proboards.com/board/77/save-half-podcast
Save for Half at OSRGaming
http://www.osrgaming.org/forums/index.php?board=37.0
And find us on social media:
Save for Half at Facebook
https://www.facebook.com/saveforhalf/
Save for Half at MeWe
https://mewe.com/join/the_save_for_half_podcast
Podcast: Play in new window | Download
Subscribe: Apple Podcasts | RSS