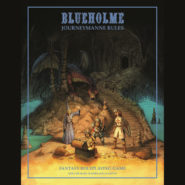 Once again the Save for Halflings dig through the emails in the Halfling Hideaway and answer questions from the listeners…some of them even true! After a break we travel through time and space to sit down with the Blueholme man himself, Michael "Vile Traveller" Thomas. We discuss his RPG, gaming in general, and accents. Lots of accents.
No Time Lords were harmed in the making of this podcast, not even the British ones.
Links mentioned in this show:
Blueholme Journeymanne rules
http://www.rpgnow.com/product/208800/BLUEHOLMETM-Journeymanne-Rules
Outdoor Survival boardgame
https://boardgamegeek.com/boardgame/1511/outdoor-survival
Stan Johansen Miniatures (RW009+)
http://www.stanjohansenminiatures.com/Road.htm
Catweazle Series 1 Episode 1 – The Sun in a Bottle (Part 1)
https://www.youtube.com/watch?v=8cgIHS7am9g
Don't forget to drop us an email at saveforhalfpodcast(at)gmail.com to give your opinions of the show!
Be sure to check out our forums at:
Save for Half at Original D&D Forums
http://odd74.proboards.com/board/77/save-half-podcast
Save for Half at OSRGaming
http://www.osrgaming.org/forums/index.php?board=37.0
Podcast: Play in new window | Download
Subscribe: Apple Podcasts | RSS