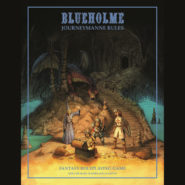 Now that we've given our views on the Holmes Basic D&D game, your Triumphant Trio give the Blueholme Journeymanne RPG a gander. This retro-clone of the Holmes game moves beyond the Prentice rules with levels 1-3 and instead carries characters from levels 1 to 20, from beginner to the heights of power and prestige. Thrills, chills, and 3d6 in order await you in this latest show!
No Alignments were harmed in the making of this show, except by DM Mike!
Links mentioned in this show:
Blueholme Journeymanne rules
http://www.drivethrurpg.com/product/208800/BLUEHOLMETM-Journeymanne-Rules
DM Liz playing 5E with the Frog Gods
https://www.twitch.tv/froggodgames
Save or Die #117
http://saveordie.info/?p=1394
Tales of Peril — Black Blade Publishing
http://black-blade-publishing.com/
Catweazle
https://www.youtube.com/watch?v=8cgIHS7am9g&feature=share
Don't forget to drop us an email at saveforhalfpodcast(at)gmail.com to give your opinions of the show!
Be sure to check out our forums at:
Save for Half at Original D&D Forums
http://odd74.proboards.com/board/77/save-half-podcast
Save for Half at OSRGaming
http://www.osrgaming.org/forums/index.php?board=37.0
Podcast: Play in new window | Download
Subscribe: Apple Podcasts | RSS