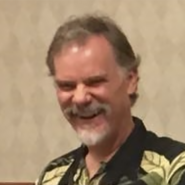 It's email time in the Halflings' Hideaway, and after responding to some listener feedback we have a discussion with Chris Holmes! For those not in the know, Chris is the son of J. Eric Holmes, the author of Holmes Basic Dungeons & Dragons! We talk characters, his Tales of Peril project, purple worms, and…Herculoids?
No Tom Hanks were harmed in the making of this episode, not even Pardue the Holy man!
Links mentioned in this show:
Chris Holmes: Tales of Peril – Facebook
https://www.facebook.com/pg/BlackBladePublishing/photos/?tab=album&album_id=758140394348915
AI Monster Manual
http://aiweirdness.com/post/172170729017/dungeons-and-dragons-creatures-generated-by
Bard's Gate with the Frogs
https://www.twitch.tv/froggodgames
Black Blade Publishing (publisher of Tales of Peril)
http://black-blade-publishing.com/
Herculoids
http://www.imdb.com/title/tt0061262/
Mississippi Bones – Dungeon Hustle
https://www.youtube.com/watch?v=LcDpKBYbODM
North Texas RPG Con 2018
http://ntrpgcon.com/2-current/20-ntrpgcon-2018
Don't forget to drop us an email at saveforhalfpodcast(at)gmail.com to give your opinions of the show!
Be sure to check out our forums at:
Save for Half at Original D&D Forums
http://odd74.proboards.com/board/77/save-half-podcast
Save for Half at OSRGaming
http://www.osrgaming.org/forums/index.php?board=37.0
Podcast: Play in new window | Download
Subscribe: Apple Podcasts | RSS