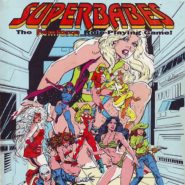 Excelsior, True-Believers! We're putting on the spandex this episode for superheroic adventures; notably SuperBabes: The Femforce RPG published by Selex Inc. and Tri-City Games. Published in 1993, it reflects many of the comic book paradigms of the era as well as a couple of interesting innovations. Take a listen and we'll bring you 4-color adventure as only audio can!
No jugglers were harmed in the making of this episode, not even Kid Jugular.
Links mentioned in this show:
AC Comics site
http://www.accomics.com/
Public Domain Superheroes
http://pdsh.wikia.com/wiki/Public_Domain_Super_Heroes
SuperBabes Supplements Noble Knight Games
https://www.nobleknight.com/Product/2147386178/AC-Unbound
Wargames: Supers of the Cold War
http://www.drivethrurpg.com/product/69095/Wargames-1-Superhuman-Threats-of-the-Cold-War
Don't forget to drop us an email at saveforhalfpodcast(at)gmail.com to give your opinions of the show!
Be sure to check out our forums at:
Save for Half at Original D&D Forums
http://odd74.proboards.com/board/77/save-half-podcast
Save for Half at OSRGaming
http://www.osrgaming.org/forums/index.php?board=37.0
Podcast: Play in new window | Download
Subscribe: Apple Podcasts | RSS