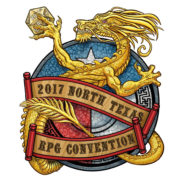 Hey all! We survived the summer rush, so we're back with a new episode! DM Liz reads emails, we chat about our time at the 2017 North Texas RPG Con (finally!), and a new segment about micro-games is premiered for your listening pleasure.
No Corbetts were harmed in the making of this episode. This one, anyway!
Links mentioned in this show:
Barrel Rider Games (James Spahn)
http://barrelridergames.wordpress.com
DrivethruRPG Barrel Rider Games (with The Hero's Journey in pdf)
http://www.drivethrurpg.com/browse/pub/4417/Barrel-Rider-Games
Lulu – The Hero's Journey (hardcover)
http://www.lulu.com/shop/james-spahn/the-heros-journey-fantasy-roleplaying/hardcover/product-22875076.html
Maze of the Blue Medusa
North Texas RPG Con 2017
https://tabletop.events/conventions/ntrpgcon-2017
Save or Die podcast (SaveorDieSaveorDieSaveorDie!)
Treasure Vaults of Zadabad
http://www.drivethrurpg.com/product/176644/The-Treasure-Vaults-of-Zadabad-Swords–Wizardry
Victorious
Don't forget to drop us an email at saveforhalfpodcast(at)gmail.com to give your opinions of the show!
Be sure to check out our forums at:
Save for Half at Original D&D Forums
http://odd74.proboards.com/board/77/save-half-podcast
Save for Half at OSRGaming
http://www.osrgaming.org/forums/index.php?board=37.0
Podcast: Play in new window | Download
Subscribe: Apple Podcasts | RSS