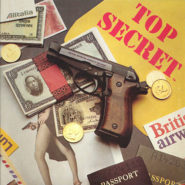 Get your trench coats and code books, in this show the Halflings enter the murky world of Cold War espionage with 1980s Top Secret RPG from TSR. DM Liz takes the reins as lead host, and won't give it back! Thrills, chills, and treachery abounds as we strive to answer the question: Can an Old School RPG have too many tables?
Links mentioned in this show:
Amazon – Top Secret box set
https://www.amazon.com/Top-Secret-Espionage-Role-Playing-Game/dp/0880383488
Gygax FBI Report
http://reason.com/blog/2017/06/15/dd-creator-gary-gygaxs-fbi-records-make
Don't forget to drop us an email at saveforhalfpodcast(at)gmail.com to give your opinions of the show!
Be sure to check out our forums at:
Save for Half at Original D&D Forums
http://odd74.proboards.com/board/77/save-half-podcast
Save for Half at OSRGaming
http://www.osrgaming.org/forums/index.php?board=37.0
Podcast: Play in new window | Download
Subscribe: Apple Podcasts | RSS