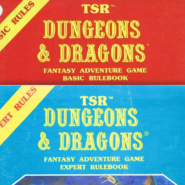 We're back and ready to find a dragon in a dungeon…so long as it's Basic/Expert! The terrible trio of DMs Mike, Liz and Corbett throw down on dragons, ghouls, and rules lawyers in this third episode of Save for Half!
Links mentioned in this show:
Dungeons & Dragons Basic set by Tom Moldvay – Wikipedia
Dungeons & Dragons Expert set by Steve marsh/Zeb Cook – Wikipedia
Don't forget to drop us an email at saveforhalfpodcast(at)gmail.com to give your opinions of the show!
Be sure to check out our forums at:
Save for Half at Original D&D Forums
Save for Half at OSRGaming
Podcast: Play in new window | Download
Subscribe: Apple Podcasts | RSS