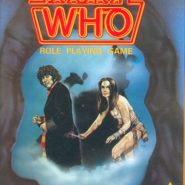 No, this isn't episode 3 of Save for Half. Thanks to the powers of the Time Vortex (and our forgetting to do otherwise) we're going back in time to give you episode 1 of the Save for Half podcast! DM Corbett joins the podcast posse of DMs Mike, Liz and Jim to discover the mysteries of time and space…according to the 1985 FASA edition of the game. Watch out for disorganized rules, tactical combat movement, and always those pesky Daleks in this episode of Save for Half!
Links mentioned in this show:
Diary of the Doctor Who Roleplaying Games #19
Space-Time Vortex – site for FASA Doctor Who stuff
Don't forget to drop us an email at saveforhalfpodcast (at) gmail (dot) com to give your opinions of the show!
Also, be sure to check out our forum at OSR Gaming!
Podcast: Play in new window | Download
Subscribe: Apple Podcasts | RSS