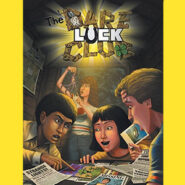 Get ready to gird your Oomph and Marbles, as the kids in the Halfling Clubhouse lead you on a delve into 70s and 80s kids' shows, both real and imaginary! This show we're looking at Dare-Luck Club, published by Lou Hoefer and Dandyline Games. Gangsters, aliens, and pirate treasure await you in this RPG for adults about the childhood that never was.
We also try and answer that age-old question of gaming, do video games really make you a criminal?
No trading cards were harmed in the making of this podcast, because we were saving up to get duct tape!
Links mentioned in this show:
Dare-Luck Club on Amazon
https://www.amazon.com/Dare-Luck-Club-RPG-Softbound-Adolescent/dp/1105877272
Dare-Luck Club on DTRPG
https://www.drivethrurpg.com/product/353888/The-DareLuck-Club-RPG-Rule-Book
Dare-Luck Club on RPGGeek
https://rpggeek.com/rpg/66500/dare-luck-club
Don't forget to drop us an email at saveforhalfpodcast(at)gmail.com to give your opinions of the show!
Be sure to check out our forums at:
Save for Half at Original D&D Forums
http://odd74.proboards.com/board/77/save-half-podcast
And find us on social media:
Save for Half at Facebook
https://www.facebook.com/saveforhalf/
Save for Half Patreon
https://www.patreon.com/saveforhalf
Podcast: Play in new window | Download
Subscribe: Apple Podcasts | RSS