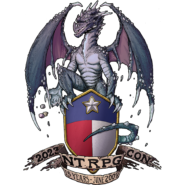 Yes, we took the plunge so you don't have to! The Fab Four watched the D&D: HAT movie and give our opinions; the good, the bad, and the Satanic! That's right, Satan (AKA Mike Badolato) joins us to give his Infernal views on the film. Oh, and also talk about some convention in Dallas this June!
No corpses were questioned during the making of this podcast, 'cuz we couldn't think of a fifth question! And we're better people.
Links mentioned in the show:
Dungeons & Dragons: Honor Among Thieves Official Website
https://www.dungeonsanddragons.movie/
North Texas RPG Con 2023 at Tabletop Events:
https://tabletop.events/conventions/ntrpgcon-2023
Don't forget to drop us an email at saveforhalfpodcast(at)gmail.com to give your opinions of the show!
Be sure to check out our forums at:
Save for Half at Original D&D Forums
http://odd74.proboards.com/board/77/save-half-podcast
And find us on social media:
Save for Half at Facebook
https://www.facebook.com/saveforhalf/
Save for Half Patreon
https://www.patreon.com/saveforhalf
Podcast: Play in new window | Download
Subscribe: Apple Podcasts | RSS