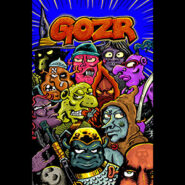 When it comes to modern games inspired by the OSR, there is '70s Gonzo, and there's '70s GONZO. Welcome to GOZR, the Sci-Fi/Fantasy RPG where characters called Gooz learn about a world reshaped by catastrophe and sorcerous science. Danger, exploration, excitement abound; as well as the answer to the age-old question of all heroic types…."What do my ears look like?"
No Pretty Ones were harmed in the making of this episode, because they were already dead?
Links mentioned in this show:
GOZR PDF
https://www.drivethrurpg.com/product/400765/GOZR-SciFantasy-RPG?src=hottest_filtered
GOZR print
https://www.thirdkingdomgames.com/product-page/gozr-softcover
GOZR extras and free stuff
https://www.jvwest.art/gozr?fbclid=IwAR2VypIXumlPqi8GmYJRRZreXnozK2DWzYn7Cd0OeS1Mj4-Xryt-_WlIKzI
JV West's GOZR rules clarifications
https://doomslakers.blogspot.com/2022/10/gozr-clarifications.html?fbclid=IwAR3svGZ4Ye11Cq8W1jHLMI8sIwy3n48V99_j4Tl-cvH4861Y9CPOxBtSwwk
Don't forget to drop us an email at saveforhalfpodcast(at)gmail.com to give your opinions of the show!
Be sure to check out our forums at:
Save for Half at Original D&D Forums
http://odd74.proboards.com/board/77/save-half-podcast
And find us on social media:
Save for Half at Facebook
https://www.facebook.com/saveforhalf/
Save for Half Patreon
https://www.patreon.com/saveforhalf
Podcast: Play in new window | Download
Subscribe: Apple Podcasts | RSS