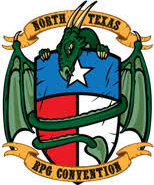 It's that time of year, what you've all been waiting for. That's right, we've got BadMike himself from North Texas RPG Con to discuss what we did this year at the best Old School con in the world! We laughed, we cried, we managed to avoid the dealer room! Plus, DM Corbett was there! No really! Honest! We mean it this time!
No candy bars were harmed in the making of this show, not even the full size ones that Corbett bought and foisted off on us!
Links mentioned in this show:
Facebook – North Texas RPG Con
https://www.facebook.com/groups/310434204630/
North Texas RPG Con website
https://ntrpg-ui.fuzion.workers.dev/
Tabletop – NTXRPG Con 2022
https://tabletop.events/conventions/ntrpgcon-2022
Don't forget to drop us an email at saveforhalfpodcast(at)gmail.com to give your opinions of the show!
Be sure to check out our forums at:
Save for Half at Original D&D Forums
http://odd74.proboards.com/board/77/save-half-podcast
And find us on social media:
Save for Half at Facebook
https://www.facebook.com/saveforhalf/
Save for Half Patreon
https://www.patreon.com/saveforhalf
Podcast: Play in new window | Download
Subscribe: Apple Podcasts | RSS