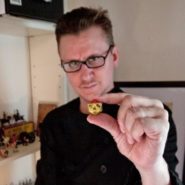 Friend of the Show Jon Peterson, noted author of the RPG industry and all around celebrity joins the Halflings to discuss his most recent work, "Game Wizards: The Epic Battle for Dungeons & Dragons", by MIT Press. The book discusses the rise of TSR Hobbies in the 1970s until the ousting of Gary Gygax in the mid 1980s from its ranks. We discuss the history of the company, the evolution of Dungeons and Dragons during the period, and most importantly…why you should always save a "Bah!" for the right moment.
No miniatures were harmed in the making of this podcast, but some checking accounts were to purchase them!
Links mentioned in this show:
Game Wizards by Jon Peterson on Amazon
https://www.amazon.com/Game-Wizards-Dungeons-Dragons-Histories/dp/0262542951
Playing at the World Blog
http://playingattheworld.blogspot.com/
Game Wizards Gary and Dave 28mm minis
https://mudpuppycomics.com/games/product/game-wizards-gary-and-dave-28mm-minis/
Don't forget to drop us an email at saveforhalfpodcast(at)gmail.com to give your opinions of the show!
Be sure to check out our forums at:
Save for Half at Original D&D Forums
http://odd74.proboards.com/board/77/save-half-podcast
Save for Half at OSRGaming
http://www.osrgaming.org/forums/index.php?board=37.0
And find us on social media:
Save for Half at Facebook
https://www.facebook.com/saveforhalf/
Save for Half Patreon
https://www.patreon.com/saveforhalf
Podcast: Play in new window | Download
Subscribe: Apple Podcasts | RSS