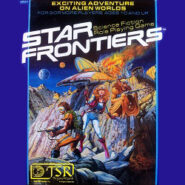 It's not a Trek, nor Wars…it's TSR's 1982 Sci-Fi game Star Frontiers! Your Halflings delve into this box set of space opera goodies with enough counters to warm any wargamer's (or DM Mike's) heart. Laser pistols, bizarre creatures, and Sonic Devastators (TM) abound in this episode of Save For Half!
No Dralasites were harmed in the making of this podcast, not even after the bad dad jokes!
Links mentioned in this show:
DriveThruRPG – Star Frontiers: Alpha Dawn pdf
https://www.drivethrurpg.com/product/226710/Star-Frontiers-Alpha-Dawn?src=hottest_filtered
Product Listing for Star Frontiers – RPG.net
https://index.rpg.net/display-search.phtml?key=system&value=Star+Frontiers
Star Frontiers Wiki & Support
https://starfrontiers.us
Star Frontiers on Wikipedia
https://en.wikipedia.org/wiki/Star_Frontiers
Don't forget to drop us an email at saveforhalfpodcast(at)gmail.com to give your opinions of the show!
Be sure to check out our forums at:
Save for Half at Original D&D Forums
http://odd74.proboards.com/board/77/save-half-podcast
Save for Half at OSRGaming
http://www.osrgaming.org/forums/index.php?board=37.0
And find us on social media:
Save for Half at Facebook
https://www.facebook.com/saveforhalf/
Save for Half at MeWe
https://mewe.com/join/the_save_for_half_podcast
Save for Half Patreon
https://www.patreon.com/saveforhalf
Podcast: Play in new window | Download
Subscribe: Apple Podcasts | RSS