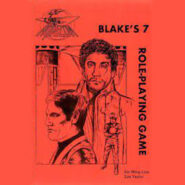 It's time to review an RPG on one of our favorite BBC Sci-Fi TV shows of the 1970s; Blakes7 by Terry Nation. A show gritty and dark for its time, it was notorious for anti-heroes, rebels losing to the evil empir…er…"Federation", and bad SF/X. Does the game compare to the show? And what's up with the build-your-own props info? Will this be the Halfling's first LARP? Click play and find out!
No Rebels were harmed in the making of this podcast, except maybe Roj Blake…
Links mentioned in this show:
Blake's 7 Online -Horizon fanclub website
http://www.blakes7online.com/news.php
Blakes 7 Wiki
https://blakes7.fandom.com/wiki/Blake%27s_7_Wiki
RPG Geek – Blakes7 RPG
https://rpggeek.com/rpgitem/51958/blakes-7-role-playing-game
Don't forget to drop us an email at saveforhalfpodcast(at)gmail.com to give your opinions of the show!
Be sure to check out our forums at:
Save for Half at Original D&D Forums
http://odd74.proboards.com/board/77/save-half-podcast
Save for Half at OSRGaming
http://www.osrgaming.org/forums/index.php?board=37.0
And find us on social media:
Save for Half at Facebook
https://www.facebook.com/saveforhalf/
Save for Half at MeWe
https://mewe.com/join/the_save_for_half_podcast
Save for Half Patreon
https://www.patreon.com/saveforhalf
Podcast: Play in new window | Download
Subscribe: Apple Podcasts | RSS