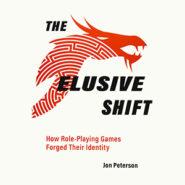 Friend of the show (and author) Jon Peterson joins the Halflings in a wide-ranging discussion of fanzines, RPG theory, and…oh yeah, his new book from MIT Press called The Elusive Shift. When did Dungeons & Dragons stop being a fantasy wargame and become a roleplaying game? Who contributed to the shift? Did they know what they were doing? Was it a smooth transition, or fraught with controversy? Will we ever stop asking questions in this summary? Tune in and find out!
No fanzine authors were harmed in the making of this podcast, despite a flamewar.
Links mentioned in this show:
Alarums & Excursions pdf source
https://conchord.org/xeno/aande.html
Playing at the World Blog (Rule 0)
https://playingattheworld.blogspot.com/2021/01/the-origins-of-rule-zero.html
RPG Pop Club Podcast by Falconer
https://www.rpgpopclub.com/podcast.html
The Elusive Shift on Amazon
https://www.amazon.com/Elusive-Shift-Role-Playing-Identity-Histories/dp/0262044641
Don't forget to drop us an email at saveforhalfpodcast(at)gmail.com to give your opinions of the show!
Be sure to check out our forums at:
Save for Half at Original D&D Forums
http://odd74.proboards.com/board/77/save-half-podcast
Save for Half at OSRGaming
http://www.osrgaming.org/forums/index.php?board=37.0
And find us on social media:
Save for Half at Facebook
https://www.facebook.com/saveforhalf/
Save for Half at MeWe
https://mewe.com/join/the_save_for_half_podcast
Save for Half Patreon
https://www.patreon.com/saveforhalf
Podcast: Play in new window | Download
Subscribe: Apple Podcasts | RSS