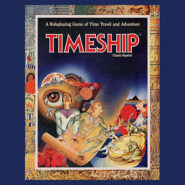 Timeship has, let's say, a checkered reputation in the RPG community. This episode your intrepid Halflings delve into a game that mandates a player play themselves, travel back in time, and (among other things) kill Hitler. What's not to like? More than you'd think with a opening like that. Will DM Jim ever forgive DM Mike for choosing this game? Listen and find out!
No players were harmed in the making of this show, because they brought shotguns to the gaming table…with no energy penalty!
Links mentioned in this show:
Herbie Brennan on Wikipedia
https://en.wikipedia.org/wiki/James_Herbert_Brennan
Timeship on Boardgame Geek
https://boardgamegeek.com/rpgitem/54502/timeship
Timeship (Noble Knight Games)
https://www.nobleknight.com/P/15322/Timeship
Timeship (Wikipedia)
https://en.wikipedia.org/wiki/Timeship_(role-playing_game)
Timeship (DriveThruRPG)
https://www.drivethrurpg.com/product/257406/Timeship-Classic-Reprint?filters=0_0_0_44499_0
Don't forget to drop us an email at saveforhalfpodcast(at)gmail.com to give your opinions of the show!
Be sure to check out our forums at:
Save for Half at Original D&D Forums
http://odd74.proboards.com/board/77/save-half-podcast
Save for Half at OSRGaming
http://www.osrgaming.org/forums/index.php?board=37.0
And find us on social media:
Save for Half at Facebook
https://www.facebook.com/saveforhalf/
Save for Half at MeWe
https://mewe.com/join/the_save_for_half_podcast
Save for Half Patreon
https://www.patreon.com/saveforhalf
Podcast: Play in new window | Download
Subscribe: Apple Podcasts | RSS