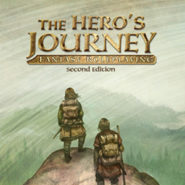 What's this? —said in our best Batman '66 announcer voice — A review of a game that has only just finished its Kickstarter? Your Fab Four Halflings come through again with a review of The Hero's Journey, 2E! We discuss its (new) mechanics, its good points, and Liz's disappointment about the color of kobolds. No, really! It's part of the show! Honest!
No Changelings were given jobs as Teamsters on this episode.
It was in the Patreon extras.
Links mentioned in this show:
Barrel Rider Games
https://barrelridergames.wordpress.com/
Gallant Knight Games
http://www.gallantknightgames.com/
The Hero's Journey 2nd Edition Kickstarter
https://www.kickstarter.com/projects/gallantknightgames/the-heros-journey-2e
Don't forget to drop us an email at saveforhalfpodcast(at)gmail.com to give your opinions of the show!
Be sure to check out our forums at:
Save for Half at Original D&D Forums
http://odd74.proboards.com/board/77/save-half-podcast
Save for Half at OSRGaming
http://www.osrgaming.org/forums/index.php?board=37.0
And find us on social media:
Save for Half at Facebook
https://www.facebook.com/saveforhalf/
Save for Half at MeWe
https://mewe.com/join/the_save_for_half_podcast
Save for Half Patreon
https://www.patreon.com/saveforhalf
Podcast: Play in new window | Download
Subscribe: Apple Podcasts | RSS