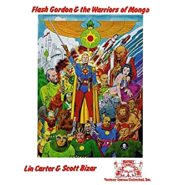 It's Flash! <insert Queen chorus here> He'll save—for Half—every one of us! In this latest episode of Save for Half, your Fab Four take a deep dive into 1977's Flash Gordon and the Warriors of Mongo, a…RPG? written by Lin Carter and Scott Bizar and published by Fantasy Games Unlimited. Adventure, excitement, power rays, and rabid flying squirrelons await you in this episode of Save for Half!
None of DM Mike's friends were harmed in the making of this podcast. We swear!
Links mentioned in this show:
Fantasy Games Unlimited
https://www.fantasygamesunlimited.net/
Flash Gordon for Savage Worlds
https://www.peginc.com/product-category/flash-gordon/
Knights of the Braille
https://knightsofthebraille.com/
Don't forget to drop us an email at saveforhalfpodcast(at)gmail(dot)com to give your opinions of the show!
Be sure to check out our forums at:
Save for Half at Original D&D Forums
http://odd74.proboards.com/board/77/save-half-podcast
Save for Half at OSRGaming
http://www.osrgaming.org/forums/index.php?board=37.0
And find us on social media:
Save for Half at Facebook
https://www.facebook.com/saveforhalf/
Save for Half at MeWe
https://mewe.com/join/the_save_for_half_podcast
Podcast: Play in new window | Download
Subscribe: Apple Podcasts | RSS