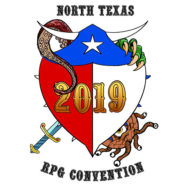 What's this? A Save for Half NTRPG Con wrap-up show before November? Thrills, chills, and Mike Badalatos abound in this overview of what the hosts did at NTRPGC! Well 3/4 of the hosts anyway. We review the con in its entirety, from the Wed. night elevator lines to the mini-tornado that hit the DFW area Sunday morning! Oh, and some gaming too…
No conventions were harmed in the making of this show, not even with tornados!
Links mentioned in this show:
Check This Artifact — Post-Apoc Artifacts for your RPG
https://www.drivethrurpg.com/product/275478/Check-This-Artifact
Colonial Troopers by Night Owl Workshop
https://www.drivethrurpg.com/product/173040/Colonial-Troopers
Crypt of the Science Wizard
https://www.drivethrurpg.com/product/274363/Crypt-of-the-SCIENCEWIZARD-SW
https://www.drivethrurpg.com/product/274360/Crypt-of-the-SCIENCEWIZARD-5E
North Texas RPG Con Facebook page
https://www.facebook.com/groups/310434204630/
Shane Plays Podcast/Radio show
https://shaneplays.com/victorious-rpg-north-texas-rpg-con/
Tabletop site for NTRPG Con
https://tabletop.events/conventions/ntrpgcon-2019
Don't forget to drop us an email at saveforhalfpodcast(at)gmail.com to give your opinions of the show!
Be sure to check out our forums at:
Save for Half at Original D&D Forums
http://odd74.proboards.com/board/77/save-half-podcast
Save for Half at OSRGaming
http://www.osrgaming.org/forums/index.php?board=37.0
And find us on social media:
Save for Half at Facebook
https://www.facebook.com/saveforhalf/
Save for Half at MeWe
https://mewe.com/join/the_save_for_half_podcast
Podcast: Play in new window | Download
Subscribe: Apple Podcasts | RSS