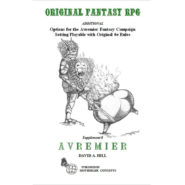 Welcome to the Halfling Hideaway of Save for Half! This show we're looking at a modern set of supplements for the campaign world of Avremier by David A. Hill. It's made to be run with the Original D&D rules (1974), but is flexible enough to run with most any A/D&D rules set. It's a big project (Core setting book and 4 supplements) but luckily for us our good friend DM Jim from Frog God Games has joined us to complete this review! We look at the setting, new monsters and magic items, and ask the eternal question…what does this have to do with Patrick Swayze?
No Flutterpotami were harmed in the making of this episode, though we tried!
Links mentioned in this show:
Avremier on DriveThruRPG
https://www.drivethrurpg.com/product/240921/Avremier-Supplement-0
Mothshade Concepts on Facebook
https://www.facebook.com/MothshadeConcepts/
Patrick Swayze on IMDB
https://www.imdb.com/name/nm0000664/
Don't forget to drop us an email at saveforhalfpodcast(at)gmail.com to give your opinions of the show!
Be sure to check out our forums at:
Save for Half at Original D&D Forums
http://odd74.proboards.com/board/77/save-half-podcast
Save for Half at OSRGaming
http://www.osrgaming.org/forums/index.php?board=37.0
Podcast: Play in new window | Download
Subscribe: Apple Podcasts | RSS