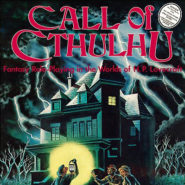 Happy Halloween, Halfsies! The Halflings are back to celebrate the holiday with the granddaddy of all horror RPGS, Chaosium's Call of Cthulhu! We open the 1st edition box and look over the rules, the extras, and most importantly of all the insanities? Death, carnage, madness and flying head butts await you dear listener—in the internet's greatest podcast brought to you by a guy from Wyoming and a couple of weirdos from Denton (the Home of Happiness!)
This podcast was brought to you by the number 2 and the letters IA!
Links mentioned in this show:
Call of Cthulhu from Wikipedia
https://en.wikipedia.org/wiki/Call_of_Cthulhu_(role-playing_game)
Chaosium
http://www.chaosium.com
Save or Die Side-Adventure #14 w/Chris Holmes
http://saveordie.info/?p=1687
Tickle-Torture
https://en.wikipedia.org/wiki/Tickle_torture
Don't forget to drop us an email at saveforhalfpodcast(at)gmail.com to give your opinions of the show!
Be sure to check out our forums at:
Save for Half at Original D&D Forums
http://odd74.proboards.com/board/77/save-half-podcast
Save for Half at OSRGaming
http://www.osrgaming.org/forums/index.php?board=37.0
Podcast: Play in new window | Download
Subscribe: Apple Podcasts | RSS