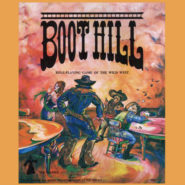 Saddle up y'all, and go for yer guns! The Halflings rustle up a passel of Western catch-phrases for this episode of the podcast! We're covering Boot Hill (1st and 2nd editions) and talk about weapons, maps, guns and a surprising lack of "Men with No Name"(TM).
No outlaws were harmed in the making of this podcast, except when Liz shot Mike…but she didn't shoot the deputy!
Links mentioned in this show:
Boot Hill at Noble Knight Games
https://www.nobleknight.com/Products/Boot-Hill
Rended Press: Old School Zines
https://rendedpress.blogspot.com/p/old-school-zines.html
Wikipedia – Boot Hill RPG
https://en.wikipedia.org/wiki/Boot_Hill_(role-playing_game)
Don't forget to drop us an email at saveforhalfpodcast(at)gmail.com to give your opinions of the show!
Be sure to check out our forums at:
Save for Half at Original D&D Forums
http://odd74.proboards.com/board/77/save-half-podcast
Save for Half at OSRGaming
http://www.osrgaming.org/forums/index.php?board=37.0
Podcast: Play in new window | Download
Subscribe: Apple Podcasts | RSS