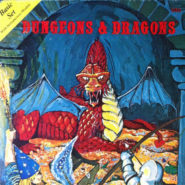 It's the grandaddy of Basic D&D, the blue book edited by Dr. J. Eric Holmes! This little gem from the late 1970s brings us the question of trying to sell RPGs in mass market stores. It also begs other questions, such as how many ogres you need to mug to level up, why unicorns blow, and what vampires are doing in a game that limits players' characters to levels 1-3? All this and more will be answered on this episode of Save for Half!
No ogres were harmed in the making of this episode, not even the ones with 500 gold pieces in their bags.
Links mentioned in this show:
Holmes compares his D&D to Moldvay's update
http://swordandshieldrpg.blogspot.com/2011/07/holmes-compares-his-basic-d-boxed-set.html
J. Eric Holmes site
http://www.holmeswest.com/
Manicorn (follow link at your own risk, and don't say we didn't warn you)
http://rlfcomic.com/toyetic/
Top 10 Ogre Colors
https://www.thetoptens.com/ugliest-colors/
Zenopus Archives: Holmes Basic D&D Blog
http://zenopusarchives.blogspot.com/
Don't forget to drop us an email at saveforhalfpodcast(at)gmail.com to give your opinions of the show!
Be sure to check out our forums at:
Save for Half at Original D&D Forums
http://odd74.proboards.com/board/77/save-half-podcast
Save for Half at OSRGaming
http://www.osrgaming.org/forums/index.php?board=37.0
Podcast: Play in new window | Download
Subscribe: Apple Podcasts | RSS