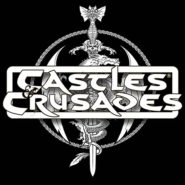 This is it, the granddaddy of all the Old School Revival games! Castles & Crusades, published in 2003, has a loyal fan base that has put the PHB on its 7th printing, showing robust life in a field now crammed with retro-clones. Though C&C isn't a retro-clone per se, it was designed to emulate old-school Fantasy RPGs in a way that Gary Gygax would be happy to write for. Sit down and enjoy as your Save for Halflings crack open this veteran game and see what ticks!
No Mikes were harmed in the making of this episode, no matter what you hear.
Links mentioned in this show:
Castles & Crusades forums:
http://www.trolllord.com/forums/
DrivethroughRPG Castles & Crusades:
http://www.drivethrurpg.com/browse.php?filters=10126_0_0_0_0
Frog God Games 5E Actual Play – Rappan Athuk
https://www.youtube.com/watch?v=csQcKycMeOo
Lone Ranger and Pizza Rolls
https://www.youtube.com/watch?v=SE-NdrzfFOo
Shakedown: The Return of the Sontarans
https://www.youtube.com/watch?v=-B7-68Ah65I
Tabletop Radio Hour (episode 22)
https://tabletopradiohour.wordpress.com/2017/08/09/ep-22-steam-spy/
Troll Lord Games
http://trolllord.com/
Don't forget to drop us an email at saveforhalfpodcast(at)gmail.com to give your opinions of the show!
Be sure to check out our forums at:
Save for Half at Original D&D Forums
http://odd74.proboards.com/board/77/save-half-podcast
Save for Half at OSRGaming
http://www.osrgaming.org/forums/index.php?board=37.0
Podcast: Play in new window | Download
Subscribe: Apple Podcasts | RSS