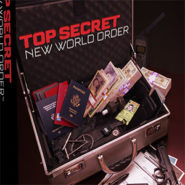 Once again your intrepid Halflings dive into the murky world of Espionage RPGs. No Cold War this time around, instead we jack into the 21st century with Top Secret: New World Order by TSR Games. We are joined by author Merle Rasmussen and TSR Games head honcho Jayson Elliot to talk over what's old, what's new, and how this podcast will self-destruct in only 51 minutes!
Links mentioned in this show:
Kickstarter for Top Secret: New World Order
https://www.kickstarter.com/projects/tsrgames/top-secret-new-world-order-the-espionage-roleplayi
Top Secret: New World Order
http://topsecretnwo.com/
TSR Games
http://store.tsrgames.com/
Don't forget to drop us an email at saveforhalfpodcast(at)gmail.com to give your opinions of the show!
Be sure to check out our forums at:
Save for Half at Original D&D Forums
http://odd74.proboards.com/board/77/save-half-podcast
Save for Half at OSRGaming
http://www.osrgaming.org/forums/index.php?board=37.0
Podcast: Play in new window | Download
Subscribe: Apple Podcasts | RSS