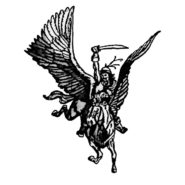 Thanks to intrepid reporter DM Jim, we at Save for Half present the 2017 North Texas RPG Con seminar on the history and future plans of the Judges Guild, presented by Bob Bledsaw Jr. If you didn't make the con (shame on you!) or missed the seminar then get ready for an hour of JG goodness!
Links mentioned in this show:
Judges Guild
http://judgesguild.org/
North Texas RPG Convention
http://www.ntrpgcon.com/
Don't forget to drop us an email at saveforhalfpodcast(at)gmail.com to give your opinions of the show!
Be sure to check out our forums at:
Save for Half at Original D&D Forums
http://odd74.proboards.com/board/77/save-half-podcast
Save for Half at OSRGaming
http://www.osrgaming.org/forums/index.php?board=37.0
Podcast: Play in new window | Download
Subscribe: Apple Podcasts | RSS