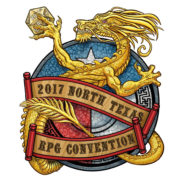 Welcome to the Save for Half "Sideshow"! These shows are produced erratically and oddly, much like a circus' sideshow. They are for the bits and bobs we don't feel fit into the format of the "whole number" shows, so be warned, it gets weird from here on out!
In this sideshow we are joined by Mike "BadMike" Badolato, co-owner/runner/responsible adult/sucker of the North Texas RPG Convention, which is held every first Thursday Weekend of June. During this show we cover emails we've gotten over the first two episodes of Save For Half. Then we talk to BadMike about the convention; what's new, what's old, what's what for the 2017 NTRPG Con and why YOU should be there!
Links mentioned in this show:
Don't forget to drop us an email at saveforhalfpodcast(at)gmail.com to give your opinions of the show!
Be sure to check out our forums at:
Save for Half at Original D&D Forums
Podcast: Play in new window | Download
Subscribe: Apple Podcasts | RSS