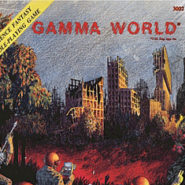 In our second outing* the Save for Half-lings (with guest-star DM Jim!) look at a seminal old school classic – 1st edition Gamma World. James M. Ward and Gary Jaquet's over-the-top combination of super-science and deadly, earnest danger set the bar for early science fiction and post-apocalyptic role playing games, and its influence is still felt in gaming 38 years later.
* Original Recording of this show was April 10, 2016
Links mentioned in this show:
Gamma World Playtest rules 1977 found:
https://forum.rpg.net/showthread.php?778584-Could-someone-help-me-verify-if-a-find-is-real
Grognard Files
http://armchairadventurerblog.com/
Don't forget to drop us an email at saveforhalfpodcast(at)gmail.com to give your opinions of the show!
Be sure to check out our forums at:
Save for Half at Original D&D Forums
http://odd74.proboards.com/board/77/save-half-podcast
Save for Half at OSRGaming
http://www.osrgaming.org/forums/index.php?board=37.0
Podcast: Play in new window | Download
Subscribe: Apple Podcasts | RSS