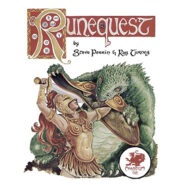 What's this? A game of Bronze-Age fantasy that mixes ancient cultures from Sumeria to the Celts? A unique world steeped in legend named Glorantha? Guest host Game Master Ed to explain the actual play of this game? Madness! Yet your Fab 4 are here discussing one of the second wave RPGs that came out in the late 1970s and was arguably the one that gave AD&D the biggest run for its money. Written by Steve Perrin and friends, this game has it all: Spell points, percentile skills, lack of classes, and a combat system that actually encourages you to avoid combat if possible. It's all here, along with Ducks as a player race. What more could you want?
No Ducks were harmed in the making of this podcast, since it was Rabbit Season!
Links mentioned in this show:
RuneQuest Classics on Chaosium
https://www.chaosium.com/blogrunequest-classics-now-available-pod-and-25-off-until-the-end-of-the-year/
RuneQuest: Roleplaying in Glorantha (Modern edition)
https://www.chaosium.com/runequest-roleplaying-in-glorantha-slipcase-set/
RuneQuest Wiki
https://rqwiki.chaosium.com/
Don't forget to drop us an email at saveforhalfpodcast(at)gmail.com to give your opinions of the show!
Be sure to check out our forums at:
Save for Half at Original D&D Forums
http://odd74.proboards.com/board/77/save-half-podcast
And find us on social media:
Save for Half at Facebook
https://www.facebook.com/saveforhalf/
Save for Half Patreon
https://www.patreon.com/saveforhalf
Podcast: Play in new window | Download
Subscribe: Apple Podcasts | RSS