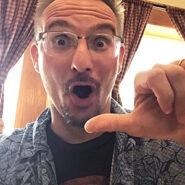 Grab your sombreros and get ready for a hijacked episode of Save For Half. This episode DM Corbett has taken over and brought in everyone's favorite wacky sitcom next door neighbors, Luau Lou! What happened to the rest of the hosts, you may ask? We reply, you ask too many questions.
Sit back and enjoy an interview with Luau Lou talking about his new game that is getting game tested at the upcoming North Texas Con, Movies Till Dawn. We learn a little history about Lou's background, what he does for a living, and how he got into gaming, along with anecdotes about his most popular game The Dare Luck Club.
Will your favorite hosts come back? Is the Save For Half Podcast done for? Will they ever review a game again? Just to ease the tension, yes, but keep listening to know for sure.
No '80s kids were harmed in the making of this podcast, since they were all off fighting pirates!
Links mentioned in this show:
Cartoon Action Hour by Spectrum Games
https://www.drivethrurpg.com/product/121604/Cartoon-Action-Hour-Season-3-rulebook
Kids on Bikes
https://www.huntersentertainment.com/kidsonbikesrpg
Mudpuppy Games
https://mudpuppygames.com/
Tales from the Loop
https://www.loop-rpg.com
Don't forget to drop us an email at saveforhalfpodcast(at)gmail.com to give your opinions of the show!
Be sure to check out our forums at:
Save for Half at Original D&D Forums
http://odd74.proboards.com/board/77/save-half-podcast
And find us on social media:
Save for Half at Facebook
https://www.facebook.com/saveforhalf/
Save for Half Patreon
https://www.patreon.com/saveforhalf
Podcast: Play in new window | Download
Subscribe: Apple Podcasts | RSS