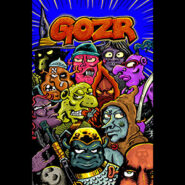 Normally we do up our character generation sessions as extras for the Patreon supporters, but this one was so much fun we decided to make a Sideshow out of it and release it to the entire community! Not only are all 4 Halflings here for the experience, but we are guided in the session by none other than the author himself, J.V. West! What characters did we make? What gear did we start with? Most importantly of all, what are our ears shaped like? All this and more awaits you in this latest show from the Save for Halfling Gooz!
No ladders were priced in the making of this episode, because DM Corbett couldn't find his Klinks!
Don't forget to drop us an email at saveforhalfpodcast(at)gmail.com to give your opinions of the show!
Be sure to check out our forums at:
Save for Half at Original D&D Forums
http://odd74.proboards.com/board/77/save-half-podcast
And find us on social media:
Save for Half at Facebook
https://www.facebook.com/saveforhalf/
Save for Half Patreon
https://www.patreon.com/saveforhalf
Podcast: Play in new window | Download
Subscribe: Apple Podcasts | RSS