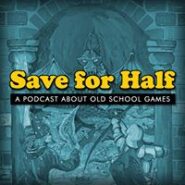 It's another end of year show, with emails and voice mails to answer. Many questions, many answers…and some even make sense! Take a listen and find out once and for all the answer to the burning question of, 'Why did a big clown hit DM Liz'?
No Podcasters were harmed in the making of this episode, but we sure felt like it!
Don't forget to drop us an email at saveforhalfpodcast(at)gmail.com to give your opinions of the show!
Be sure to check out our forums at:
Save for Half at Original D&D Forums
http://odd74.proboards.com/board/77/save-half-podcast
And find us on social media:
Save for Half at Facebook
https://www.facebook.com/saveforhalf/
Save for Half Patreon
https://www.patreon.com/saveforhalf
Podcast: Play in new window | Download
Subscribe: Apple Podcasts | RSS