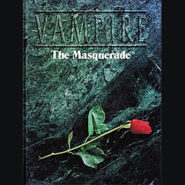 You all knew it was coming, sooner or later. Like a undead wraith itself, Vampire: The Masquerade rises from the grave (the 2nd edition anyway) for your Fab Four to review. We cover what's good, what's not-so-good, and what sucks (see what I did there?) in White Wolf's pre-eminent product in the RPG hobby. Get your Goth gear on, find some ankhs, and prepare for fang-u-lous fun!
No Kindred were diablerized in the making of this podcast, not even from behind the Elysium!
Links mentioned in this show:
Vampire: The Masquerade 2nd edition on DTRPG
https://www.drivethrurpg.com/product/2310/Vampire-The-Masquerade–2nd-Edition?cPath=1_6533
Vampire: The Masquerade on White Wolf Wiki
https://whitewolf.fandom.com/wiki/Vampire:_The_Masquerade
White Wolf Publishing on Wikipedia
https://en.wikipedia.org/wiki/White_Wolf_Publishing
Don't forget to drop us an email at saveforhalfpodcast(at)gmail.com to give your opinions of the show!
Be sure to check out our forums at:
Save for Half at Original D&D Forums
http://odd74.proboards.com/board/77/save-half-podcast
And find us on social media:
Save for Half at Facebook
https://www.facebook.com/saveforhalf/
Save for Half Patreon
https://www.patreon.com/saveforhalf
Podcast: Play in new window | Download
Subscribe: Apple Podcasts | RSS