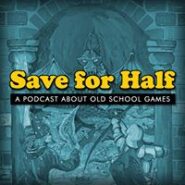 Yes, it's the senses-blasting return of that (in)famous Halfling tradition…the Email Hot Tub Time Machine!™ Guest starring DM Cojo! Well, not exactly…but he has so many emails here you'd think he was in the room!
No emails were harmed in the making of this sideshow, though quite a few were in the lost and found!
Don't forget to drop us an email at saveforhalfpodcast(at)gmail.com to give your opinions of the show!
Be sure to check out our forums at:
Save for Half at Original D&D Forums
http://odd74.proboards.com/board/77/save-half-podcast
And find us on social media:
Save for Half at Facebook
https://www.facebook.com/saveforhalf/
Save for Half Patreon
https://www.patreon.com/saveforhalf
Podcast: Play in new window | Download
Subscribe: Apple Podcasts | RSS