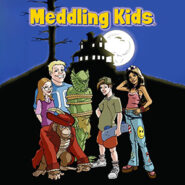 Jinkies! It's time to pile into the van with your fave talking creature and go solve groovy mysteries with your cool clique of friends in this RPG that pays homage to various cartoons of the 60s, 70s and 80s. The Halflings gather their Spooky Snacks(TM) and prepare to trap monsters, ghosts and pirates in an RPG that just might not take itself entirely seriously. The hosts review the game, reminisce about that ancient bit of ephemera called the Saturday Morning Cartoon, and generally fight over who gets to be the talking dog. Or monkey. Or shark. Or pirate. Or alien.
No Pirate Monkeys were harmed in the making of this podcast, not even by Old Man Potts!
Links mentioned in this show:
Pandahead Publications
http://www.pandahead.com
Don't forget to drop us an email at saveforhalfpodcast(at)gmail.com to give your opinions of the show!
Be sure to check out our forums at:
Save for Half at Original D&D Forums
http://odd74.proboards.com/board/77/save-half-podcast
Save for Half at OSRGaming
http://www.osrgaming.org/forums/index.php?board=37.0
And find us on social media:
Save for Half at Facebook
https://www.facebook.com/saveforhalf/
Save for Half at MeWe
https://mewe.com/join/the_save_for_half_podcast
Save for Half Patreon
https://www.patreon.com/saveforhalf
Podcast: Play in new window | Download
Subscribe: Apple Podcasts | RSS