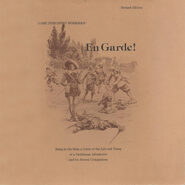 It's time to get your rapier and swing from a chandelier, because the Halflings take a look this episode at the Game Designers' Workshop edition of En Garde by Darryl Haney and Frank Chadwick (1975). There are all sort of things for PCs to do in the game, be it carouse at pubs, visit mistresses, and…join the army? All this and more await you with a clash of steel and a floppy hat. Oh, and ruffs too. Lots of ruffs!
No Bucklers were Swashed in the making of this podcast, though they were nicked!
Links mentioned in this show:
En Garde Website
http://www.engarde.co.uk/history.html
En Garde on BoardGameGeek
https://boardgamegeek.com/boardgame/7771/en-garde
En Garde on Wikipedia
https://en.wikipedia.org/wiki/En_Garde!
Don't forget to drop us an email at saveforhalfpodcast(at)gmail.com to give your opinions of the show!
Be sure to check out our forums at:
Save for Half at Original D&D Forums
http://odd74.proboards.com/board/77/save-half-podcast
Save for Half at OSRGaming
http://www.osrgaming.org/forums/index.php?board=37.0
And find us on social media:
Save for Half at Facebook
https://www.facebook.com/saveforhalf/
Save for Half at MeWe
https://mewe.com/join/the_save_for_half_podcast
Save for Half Patreon
https://www.patreon.com/saveforhalf
Podcast: Play in new window | Download
Subscribe: Apple Podcasts | RSS