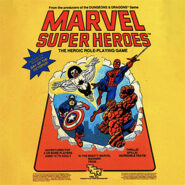 Excelsior, True Believers! The Fab Four Halflings take a dive into that first licensed Superhero RPG of the 1980s, the Marvel Super Heroes Roleplaying Game box set by TSR. Published in 1984, it took a few directions that Supers RPGs hadn't yet tried such as ranks for both attributes and powers, Karma as both XPs and die roll mods, and of course getting statistics for your favorite Marvel heroes. Well, 8 of them anyway. Sit back and enjoy our Remarkable coverage of an Incredible game in Amazing detail…'Nuff said!
No Trademarks were harmed in the making of this podcast, despite TSR's providing them. A lot.
Links mentioned in this show:
Classic Marvel Forever website
https://www.classicmarvelforever.com/cms/
FASERIP RPG on Drive-Thru RPG
https://www.drivethrurpg.com/product/177913/Faserip
Marvel Super-Heroes on Wikipedia
https://en.wikipedia.org/wiki/Marvel_Super_Heroes_(role-playing_game)
Don't forget to drop us an email at saveforhalfpodcast(at)gmail.com to give your opinions of the show!
Be sure to check out our forums at:
Save for Half at Original D&D Forums
http://odd74.proboards.com/board/77/save-half-podcast
Save for Half at OSRGaming
http://www.osrgaming.org/forums/index.php?board=37.0
And find us on social media:
Save for Half at Facebook
https://www.facebook.com/saveforhalf/
Save for Half at MeWe
https://mewe.com/join/the_save_for_half_podcast
Save for Half Patreon
https://www.patreon.com/saveforhalf
Podcast: Play in new window | Download
Subscribe: Apple Podcasts | RSS