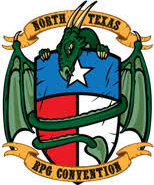 Normalcy is usually overrated, but not this time. The 13th North Texas RPG Con is happening June 3-6, 2021 and the goal is a return to normal con-gaming. As ever, BadMike/Satan is here to regale us with details: the food trucks, an open bar and Starbucks, and most of all gaming! Listen as your Halflings find out the skinny on the con, its Virtual track for those stuck at home, and a promise that his brother won't be wearing speedos this time. Probably.
No shots were prescribed in the recording of this show…not even at BadMike's table!
Links mentioned in this show:
BadMike's B1 game on YouTube
https://www.youtube.com/watch?v=KXXGA8L8N2c
NTRPG Con on Tabletop.Events
https://tabletop.events/conventions/ntrpgcon-2021
Don't forget to drop us an email at saveforhalfpodcast(at)gmail.com to give your opinions of the show!
Be sure to check out our forums at:
Save for Half at Original D&D Forums
http://odd74.proboards.com/board/77/save-half-podcast
Save for Half at OSRGaming
http://www.osrgaming.org/forums/index.php?board=37.0
And find us on social media:
Save for Half at Facebook
https://www.facebook.com/saveforhalf/
Save for Half at MeWe
https://mewe.com/join/the_save_for_half_podcast
Save for Half Patreon
https://www.patreon.com/saveforhalf
Podcast: Play in new window | Download
Subscribe: Apple Podcasts | RSS